Over the last 5 years, MHSI have been engaging with the key stakeholders to development of a novel and practical approach to enhancing the security of the MLPORA area. This involves a set of strategically placed high resolution and numberplate recognition cameras that run advanced object recognition software integrated with Artificial Intelligence and linked to a control room which will alert our armed response teams of suspect suspected behaviour in real time.
The project was first presented to the MPLORA community in November 2020, where it was overwhelmingly supported. The process is now coming to fruition.
Significant research and negotiation has been done to identify the most suitable technological solutions to protect our neighbourhood. Talks with the key parties have now completed ensuring that our requirements (such as high definition, 24 hour coverage and how responses will be co-ordinated) are met.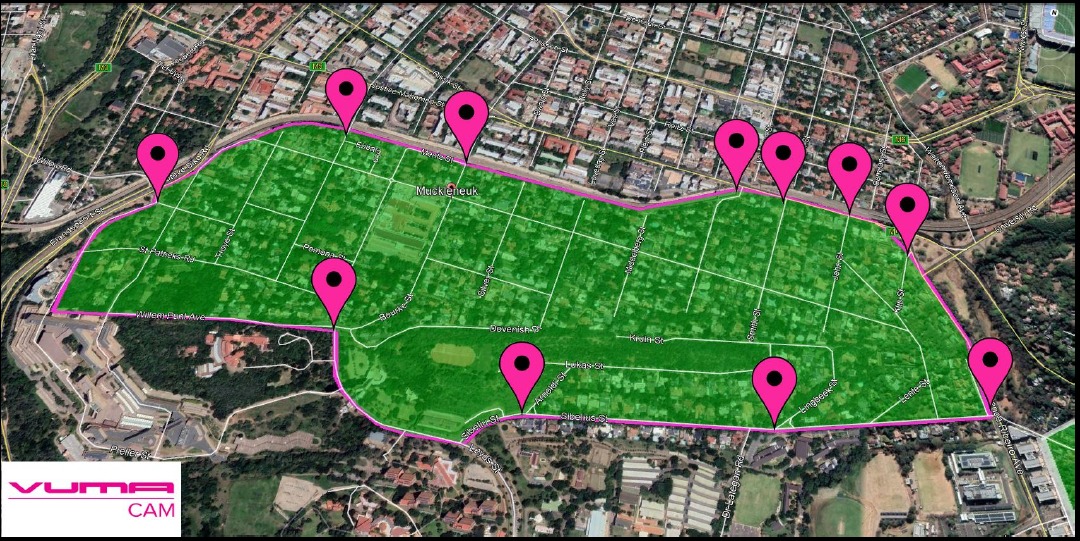 The solution is a virtual closure of the neighbourhood. The first phase will consist of 11 camera locations at the 11 entrances to Muckleneuk/Lukasrand to Virtually Close our area.
The service providers are now ready to commence with this first phase as soon as we reach the first 100 contributors that sign up!.
Vuma Cam will fund and install a number of camera poles, each containing a number of high resolution cameras, at strategic points (initially at high priority entry and egress points) around the community.
The images and value added outputs created by the cutting edge technology will be monitored 24/7 by a specialised control room. Alerts about suspicious activities will be pro-actively passed on to the control rooms and the patrol cars of the security companies working in our community.
To fund the additional expense, security companies will charge participating members an additional fee of R430 per month to pay for the subscription fee and operation of the solution. Although all households will ultimately benefit from such a solution, we hope to contract at least 400 households to participate in the project. The extension of the project and the erection of additional cameras will depend on the number of additional households that subscribes to the camera project. A holistic approach will be taken to determine the location of camera locations.
Virtual Closure
"Closure" by means of a boom gate is a misnomer as any person may still freely pass through such a gate and nobody may be legally denied access to a public road/neighbourhood. "Controlled Access" is a more apt term as all a boom gate does is improve the ability to monitor the use of the entrance.
We believe "Controlled Access" can be achieved by placing advanced cameras at all the entrances to the neighbourhood. We refer to this concept as "Virtual Closing".
Artificial Intelligence powered cameras can be taught to flag specific events (e.g. someone pushing a wheelie bin past is) and can also over time learn what is normal for a specific location and flag unusual events (e.g. a car driving in the wrong lane or someone running away at an unusual time of the day).
Flagged events are sent to a 24/7 manned control room for instant review by an operator that has to acknowledge each event and decide on follow-up action if required, e.g. instructing the patrol cars to respond or alerting the community.
Whereas a human operator will quickly get fatigued when watching dozens of screens, the AI power camera remains vigilant at all times and alerts the operator when action needs to be taken.
License plate recognition cameras
Automatic Number Plate Recognition cameras pick up the number plates of passing vehicles.
The system quickly learns which vehicles belong in our area thereby focussing more attention on unknown vehicles.
Criminal gangs are known to move from area to area (e.g. one day in Muckleneuk then in Centurion the next). However, with more than 5 000 cameras in various areas sharing information with a central control room , a vehicle connected with an incident in one area will automatically be noted when it enters another area.
24 hour control room
Security cameras that record events are useful for analysing incidents after the fact and/or for evidence. To pro-actively prevent crime and apprehend criminals, cameras have to be supported by a full-time control room with an operator that can respond to alerts and instantly initiate an appropriate response.
Live reaction
The 24 hour control room is directly linked via the MHSI community radio to the three patrol vehicles that operate in our area as well as the about one hundred residents of the Muckleneuk Hill Security Initiative that participate in our community radio network. Depending on the nature and severity of the incident, the control room operator can either alert the patrol vehicles and/or residents, dispatch one or more patrol vehicles, call for back-up from volunteer residents and/or backup from patrol cars of neighbouring areas.
Phase 1
The first phase will focus on "closing" Muckleneuk and Lukasrand by placing cameras at or near the following eleven entrances:
1:Ridge and Preller
2:Ebbard and Celliers
3:Bourke and Mentz
4:Dougal (on the curve)
5:Smith and Justice Mohammed
6:John and Justice Mohammed
7:Klip and Florence Ribeiro
8:Sibelius and Florence Ribeiro
9:Sibelius and Dr Lategan
10:Sibelius and Arnoldi
11:Willem Punt and Leyds
Phase 1 will initially have poles mounted on walls of participating property owners to bypass the delays caused by getting permission of the City Council to mount poles on the sidewalk, and use LTE (cellular data) to connect to the control room.
Phase 2
The subsequent phase(s) will aim to place on nearly every street corner of Muckleneuk and Lukasrand. The goal is for the cameras to be able to watch almost every street and sidewalk and introduce two novel concepts: Virtual Patrol and Virtual Response.
Virtual Patrol:
The cameras "patrol" the neighbourhood and alert a control room operator when the cameras spot potential criminal or unusual behaviour (see sample video clips where the cameras identified unusual behaviour). The control room operator can then initiate the appropriate follow up action i.e. dispatch patrol vehicle(s) to the targeted location.
Virtual Response:
When your alarm goes off, in addition to the normal signal sent to your armed response company, a duplicate signal is sent to the camera control room. This would allow the camera operator to instantly "respond" by switching his live camera view to the street(s) in front of and/or surrounding your house and keep a lookout for e.g. a suspicious vehicle at the scene or a person fleeing the scene.
Cameras also offer two unique advantages. With sufficient saturation of camera locations, the camera operator could follow a fleeing person or vehicle much faster than a patrol car could. Cameras can also "go back in time" to see e.g. what happened before an incident (e.g. the support vehicle that dropped of a perpetrator) or where e.g. a fleeing person was last seen before hiding in bushes or a panhandle.
Proceeding with phase 2 is constrained by three factors:
Obtaining permission from Tshwane to erect camera poles on the sidewalks.
Securing bulk fibre connectivity from OpenServe (these high quality cameras consume enormous quantities of internet bandwith).
Participation of at least 400 members (there are approximately 625 properties in Mucklneuk/Lukasrand).